Every year, individuals and groups across the country raise money to support Muscular Dystrophy Canada in their own way by hosting their own special events, including everything from bake sales to bike rides, golf tournaments, dances, auctions, and head-shaving challenges.
Are you feeling creative? Starting your own event can be a fun and meaningful way to give back to the neuromuscular community. With careful planning, you can help make a real difference in the lives of people with neuromuscular disorders.
Contact us at info@muscle.ca or toll free at 1-800-567-2873 to find out how you can get started today.
Application
We are honoured that you have chosen Muscular Dystrophy Canada to be the beneficiary of your fundraising event! Please download and submit the form below to info@muscle.ca so we can get to know you better!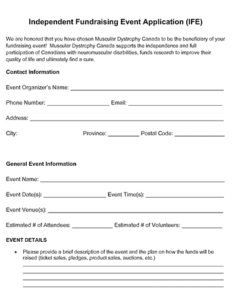 Independent Fundraising Event Application PDF
Tier One
Events with the potential to raise $1 – $999 are eligible to receive these supports from MDC:
In Support Logo
In Support Signage
Letter of Support
Fundraising Templates
Impact Reports
Tier Two
Events with the potential to raise $1,000 – $4,999 are eligible to receive these supports from MDC:
In Support Logo
In Support Signage
Letter of Support
Fundraising Templates
Impact Report
MDC Branded Materials
Tier Three
Events with the potential to raise $5,000 – $9,999 are eligible to receive these supports from MDC:
In Support Logo
In Support Signage
Letter of Support
Fundraising Templates
Impact Reports
MDC Branded Materials
Potential MDC client engagement
Social Media Posts – 1 post per week leading up to event day
Fundraising Website
Assist with Volunteer recruitment strategies
Tier Four
Events with the potential to raise $10,000+ are eligible to receive these supports from MDC:
In Support Logo
In Support Signage
Letter of Support
Fundraising Templates
Impact Reports
MDC Branded Materials
Potential MDC Client Engagement
Assistance developing social media plan
Fundraising Website
Potential MDC Staff Presence at event
Potential Firefighter Presence