Help Fill The Boot!
For 65 years, Fire Fighters have been supporting MDC and Canadians impacted by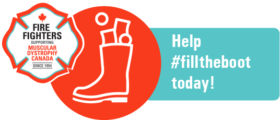 neuromuscular disorders. Due to COVID-19, Fire Fighters had to cancel their efforts to Fill the Boot this Spring.
However, the needs of those impacted by neuromuscular disorders cannot be cancelled. To support Fire Fighters and MDC clients, a new #filltheboot social media challenge has been launched where supporters upload a video of them filling the boot, make a donation to filltheboot.ca and challenge three friends to do the same. Help Fill the Boot today!
Muscular Dystrophy Canada is extremely proud to be affiliated with Fire Fighters and the longstanding partnership we have with them.
Fire Fighters have stood beside Muscular Dystrophy Canada since the beginning. In 1954 the founder of MDC, Dr. David Green wanted to raise money to help fund research for his son and other clients impacted by neuromuscular disorders. He reached out to the Toronto Fire Fighters to ask for help and a tradition began. Since 1954, Fire Fighters have been Muscular dystrophy Canada's largest network of supporters, delivering an impact that has been felt for decades.
More than 600 Fire Departments and Associations across Canada raise more than $3 Million annually in support of MDC. Each year, career and volunteer Fire Fighters give their time and help "Fill the Boot" by organizing various events like boot drives, rooftop campouts, stair climbs, ladder sits, car washes, raffles, sporting events and truck pulls in support of more than 50,000 Canadians who are impacted by neuromuscular disorders.
Thank you to these incredible Fire Fighters who are ignited by passion, fueled by hope.
If you're a Fire Fighter you can Take Action by:
Supporting and participating in your Department's / Association's Muscular Dystrophy Canada fundraising event
Organizing a fundraising event in support of Muscular Dystrophy Canada
Attending a Walk for Muscular Dystrophy
Becoming the MD Chairperson for your Department/Association
Contacting Muscular Dystrophy Canada to find out how you or your Department / Association can be involved by calling 1-800-567-2873 or emailing info@muscle.ca
For Immediate Release. May 5, 2020 Toronto, Ontario – For an incredible 65 years Fire Fighters across Canada have helped Fill the Boot. Unfortunately, due to COVID-19, Fire Fighters had to cancel their fundraising efforts this Spring, but the needs of people impacted by neuromuscular disorders can't be cancelled. MDC still needs to provide critical …

Continue Reading

STATEMENT REGARDING PHONE SOLICITATIONS Muscular Dystrophy Canada does not use telemarketing services. Several years ago, the Canadian Fire Fighter Curling Association (CFFCA) retained a telemarketing company to assist in fundraising for their annual curling event. A portion of the funds raised in past years were donated to MDC. Muscular Dystrophy Canada can confirm a campaign …

Continue Reading

I met Brayden Graft when he was just five-days-old. Little did I know then the impact he would have on my life. My friends Leanne and Tony had been fostering children for about five years and already had a baby at home when their social worker called about Brayden. They didn't even think twice about …

Continue Reading