Newborn screening for spinal muscular atrophy
In December 2020, MDC launched a multi-year, multi-phase endeavour in collaboration with Novartis Pharmaceuticals Canada Inc. to better understand and address barriers for the implementation of newborn screening for spinal muscular atrophy (SMA). Our goal is to positively influence policy change, such that SMA is prioritized for imminent inclusion on all existing provincial newborn screening panels across the country. Currently there are treatments available, and more are in development, that can have a life-changing impact on babies diagnosed with SMA.
However, in neuromuscular disorders like SMA where time is of the essence, early diagnosis and prompt access to treatments are critical to achieving the best possible outcomes. Unfortunately, this is not the reality for most Canadian children born with SMA.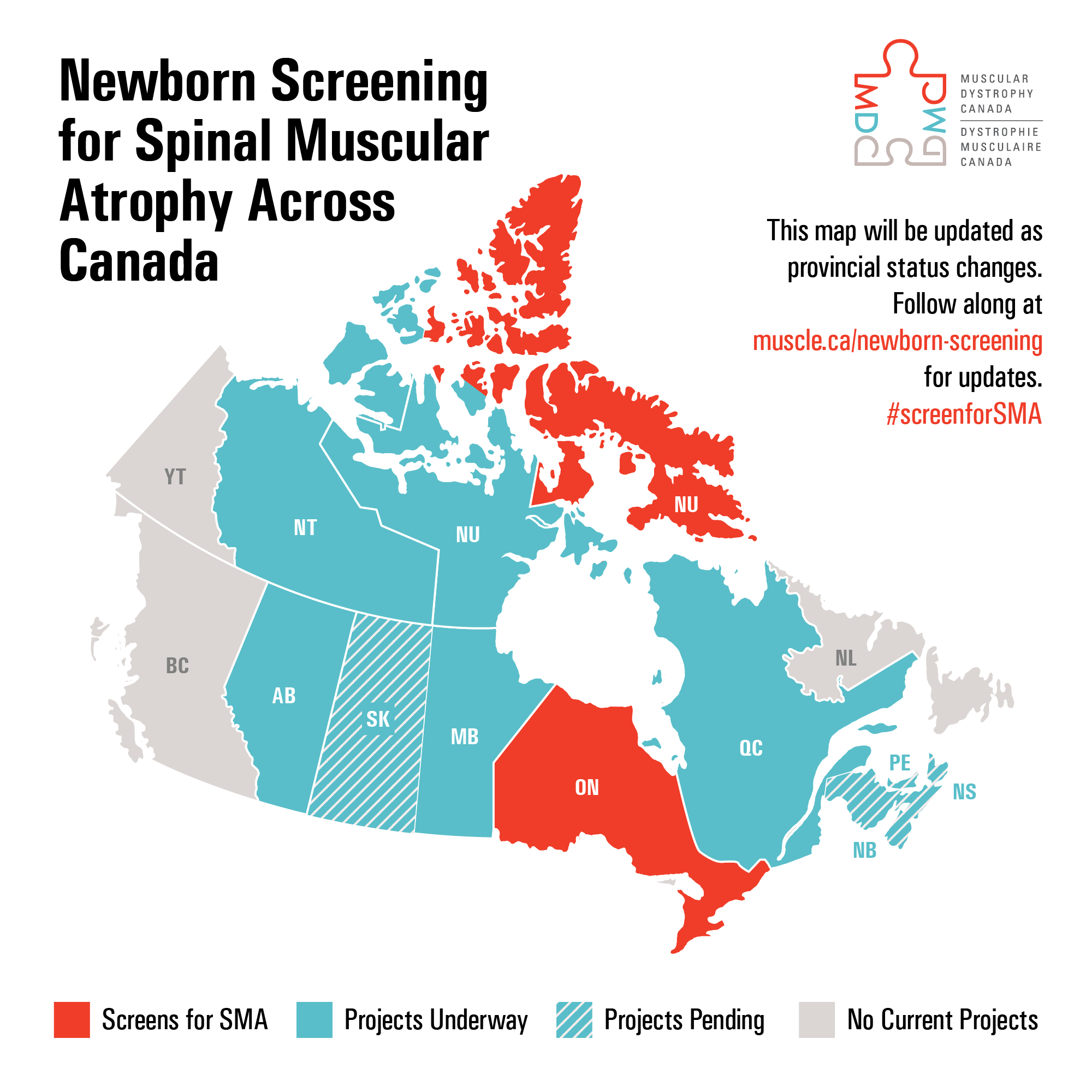 "As the mother of an infant with SMA who was not screened at birth, I know first-hand the devastating implications of delayed diagnosis. Newborn screening for SMA means that one day soon, no matter where they live all families will have the opportunity to make critical healthcare decisions and realize their child's full developmental potential from the very beginning."

Laura Van Doormaal, Newborn Screening Advisory Committee member
Newborn Screening in the News
Needs and Readiness Assessment
To expand on the success of Ontario, in April 2020, ETIO Public Health Consultants Inc. was engaged to complete an assessment for the viability of including SMA into existing newborn screening programs in addition to a potential future national screening program. This assessment was meant to elicit a clear understanding of the current barriers and facilitators in the current operational and policy landscape with respect to newborn screening. Clear findings from the multitude of subject-matter experts from across the country, review of existing literature and the promising data from Ontario, point to strong support and potential for SMA inclusion in NBS panels in other provinces and territories. If you are interested in learning more about the readiness assessment, please contact Dr. Homira Osman
Newborn Screening Advisory Committee Members
Catherine Boivin, Adult Affected by SMA
Brad Crittenden, Canadian Association of Pompe
Jessica Janzen Olstad, Love for Lewiston
Michael Low, Parent of Child Affected by SMA
Dr. Gail Ouellette, PhD, Regroupement québécois des maladies orphelines (RQMO)
Laura Van Doormaal, Parent of Child Affected by SMA
Susi Vander Wyk, CureSMA Canada
Dr. Durhane Wong-Rieger, PhD, Canadian Organization for Rare Diseases (CORD)
Peer Review & Selection Panel Members
Spinal Muscular Atrophy
SMA is the leading cause of genetic infant death. Loss of motor neurons cannot be reversed, so SMA patients with symptoms at the time of treatment will likely require some supportive respiratory, nutritional and/or musculoskeletal care to maximize functional abilities. This is why it is imperative to diagnose SMA and begin treatment, including proactive supportive care, as early as possible to halt irreversible motor neuron loss and disease progression.
Have questions about newborn screening?
Reach out to MDC's Research team by emailing research@muscle.ca or calling toll free 1 800 567 2873 ext.9037