In 1954, a small group of parents with sons impacted by muscular dystrophy came together to form the Muscular Dystrophy Association of Canada (renamed Muscular Dystrophy Canada) with a goal of advancing research in the neuromuscular field.
Dr. David Green
Dr. David Green, co-founder of Muscular Dystrophy Association of Canada, faced the challenge of introducing the Association into a market many felt was already overrun with charities. However, a few years later, the Muscular Dystrophy Association of Canada would be proudly recognized as one of Canada's top 10 health organizations with a membership between 10,000-15,000 with new chapters opening up across the country every year.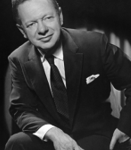 Arthur Minden
Arthur Minden, co-founder with Dr. Green, was also the first National President, holding that position for ten years and was Chairman of the Board until his passing in 1966. During his time as president, Minden worked to involve Fire Fighters in raising funds for the Muscular Dystrophy Association of Canada. Fire Fighters became involved in initiating fundraising activities in 1954 and raised $200,000 to fund the first six research projects. Fire Departments have continued to be our strongest source of fundraising support to this day.
As our research efforts grew, we expanded our services to include education, referrals, equipment funding, advocacy, and ongoing peer support for those impacted by neuromuscular disorders.
Today we have volunteers across the country helping raise funds to provide services to tens of thousands of Canadians affected by neuromuscular disorders. We are extremely thankful for our committed partners and volunteers who have supported MDC over the years.