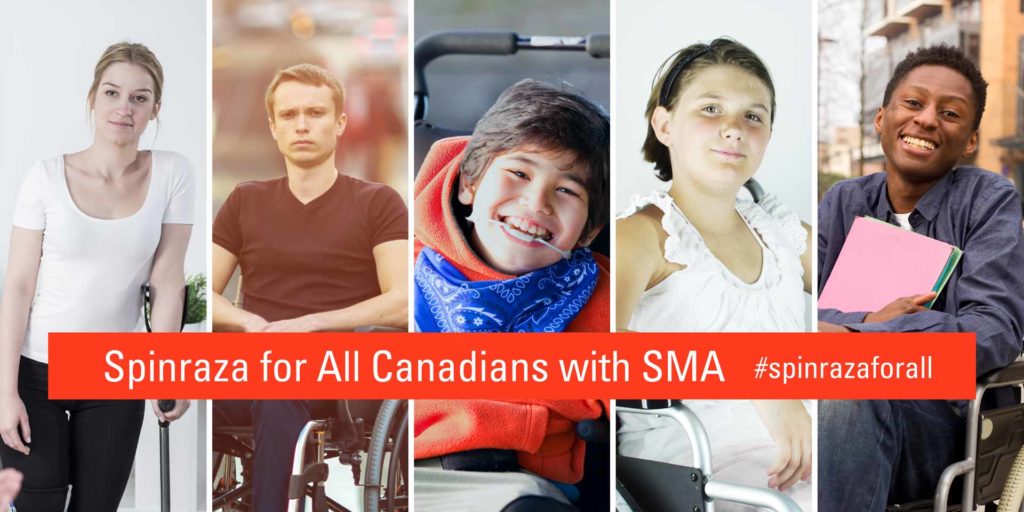 SHOULD ACCESS TO LIFE CHANGING MEDICAL DRUGS AND TREATMENTS BE DETERMINED BY YOUR POSTAL CODE?
For people with the neuromuscular condition SMA, a drug called Spinraza is the only approved treatment but access is not equal across the country. In December of 2018, INESSS reviewed new evidence including a new approach to evaluating rare-disease drugs. They concluded that all Quebec patients with spinal muscular atrophy should get Spinraza, regardless of age. CADTH did not agree and has put several conditions on access to the drug for SMA patients excluding anyone over the age of 12. We are asking you to join Muscular Dystrophy Canada in challenging governments to recognize the inequity this decision creates, and seriously consider how to expand the availability of this treatment for all patients across Canada.
Send a letter to your Government representation to highlight the inequitable treatment of SMA clients in Canada. We are asking our community to sign and send the following letter to: the Federal Minister of Health, Your Provincial Minister of Health and your Local MP or MPP.
Read our official statement on the CADTH recommendations
SMA causes major problems with walking, muscle strength, fine motor skills, (deep) breathing, and swallowing or feeding. The inability to walk means relying on wheelchairs and other mobility aids and dealing with associated barriers. In more severe cases, patients cannot execute basic movements such as sitting up or feeding themselves.
Nusinersen, marketed as Spinraza, is a medication used in treating SMA. An "antisense" drug, Spinraza is designed to target genetic instructions at the RNA stage (an intermediate step between DNA and the protein manufacturing stage inside cells), resulting in increased production of the needed survival motor neuron (SMN) protein.
One parent described the treatment as a "miracle". Demonstrated improvements include stronger breathing, speech, and coughing; increased physical strength, energy, and movement; ability to perform new actions such as holding one's head up, rolling over, bearing weight on legs, raising arms and legs to and above the head, sitting or standing up with and without assistance, and using mobility aids.
wish to make this into a poster page but need to write CSS to make it work, will align with donate page