Neuromuscular Disorders: Patient/Client & Family-Centred Engagement
Learning Objectives
Learn about what evidence is available to support concepts and benefits of patient engagement in clinical care.
Learn about shared decision making, why is it important in health care and how can people impacted by neuromuscular disorders benefit from it.
Learn about what services and strategies are available for navigating complex systems outside healthcare and how people impacted by neuromuscular disorders are overcoming such barriers.
Learn how to become engaged and take an active role in care decisions and research.
Presenters
STACEY LINTERN, RN – CEO, Muscular Dystrophy Canada (Ontario):
Stacey joined Muscular Dystrophy Canada in 2012, and has held various positions, including Executive Director for Ontario, VP Mission and most recently COO. During Stacey's tenure with Muscular Dystrophy Canada, she had oversight over the delivery of the mission nationwide, Annual Campaigns and Fire Fighter portfolios. Stacey has worked in the non-for-profit sector for over 20 years. She has worked as a senior manager in large health organizations where she managed organizational development, strategic planning, stakeholder relations, partnerships, and mission delivery. She has provided consultation for government with a focus on crisis management, accessibility policy, prevention of abuse for vulnerable populations as well as, access to healthcare. Stacey has served on boards of various organizations that promoted independence, inclusion and health outcomes based on consumer's choice.
LAURA WILLIAMS, MSW, RSW, CHE – Director of Patient Engagement, University Health Network (Ontario):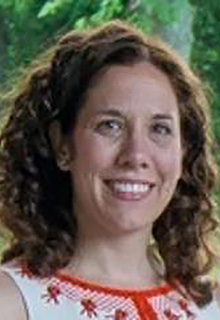 Laura Williams is the Director of Patient Engagement at the University Health Network and oversees Patient Relations, Patient Education, myUHN Patient Portal, Interpretation and Translation Services, and the Patient Partnerships programs. These teams support the role of patient engagement in organizational decision-making and at the point-of-care. Laura has held patient engagement roles at Health Quality Ontario and Holland Bloorview Kids Rehabilitation Hospital. Laura also has a son with rare genetic neurodevelopmental condition called GRIN1. His diagnosis at age 9 through whole genome sequencing has led to partnerships for the advancement of research in GRIN disorders and last year Laura's family co-launched the CureGrin Foundation.
BONNIE WOOTEN, RN, BA, MPA – Decision Coach/Project Lead SDM Pediatric Neurology – London Health Sciences Centre (Ontario):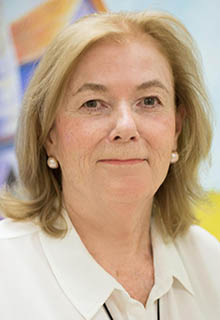 Bonnie is the Shared Decision Making Project Lead & Decision Coach, offering a supportive, neutral and non-directive process by providing coaching face-to-face, on an individual or group basis, by telephone, email, online or through telehealth. Facilitates access to evidence-based information, clarifies decisions and monitors patient's needs. Verifies understanding, clarifies values, builds skills in deliberation, communication, and accessing support. Monitors and facilitates progress in decision making and develops the patient's skills in understanding their options, preparing for a consultation and implementing change.
DANIELLE CAMPO McLEOD, BSW, RSW – Director of Mission – Muscular Dystrophy Canada (Ontario) :
Danielle is a Director with Muscular Dystrophy Canada and a Registered Social Worker. Danielle brings a client perspective to the issues being considered by the Board. Danielle is a former Paralympic Swimmer, she represented Canada in the Paralympics winning a total of three golds, two silvers, and a bronze medal and held at one time eight world records. Danielle holds a degree in Social Worker and is a certified Child and Youth Worker. Danielle was invested with the Order of Ontario, the province's highest distinction.
Talk Takeaways
Patient engagement can be characterized by how much information flows between patient and provider; how involved the patient is in organizational design and governance; and whether patient voice is heard when an organization makes policies (Carman et al, 2013). The continuum of engagement ranges from the patient being in a consultation role with minimal involvement, to becoming true partners in their care and in operations and policymaking.
Reasons to promote client/patient and family-centered engagement: Improve quality of care, patient safety and self-management; Increase patient satisfaction and experience scores; research shows us that improved experiences increase trust and increases likelihood that patients will follow through on health recommendations – better health outcomes; Reduce errors; Build more informed patient and family population; Creates better relationships; better experience for staff and patients.
Shared Decision Making (SDM) is a model of communication between a health professional and a patient about the options of prevention, screening, diagnostic tests and treatment, including the option of not intervening; an approach where clinicians and patients share the best available evidence when faced with the task of making decisions, and where patients are supported to consider options and to achieve informed preferences. Shared Decision Making has been shown to improve compliance with treatments and decision confidence and satisfaction.
Patients diagnosed with a neuromuscular disorder and their families may struggle to make a range of medical treatment decisions throughout their lifetime. This is particularly true of decisions with uncertain outcomes. The demand on patients and caregivers to make treatment and care decisions can be unrelenting over the lifetime journey with a neuromuscular disorder – often with decisions required at times when patients may not feel well enough to cope. This population can benefit from structured support with decision making to build the necessary skill set to navigate future health care decisions. Shared decision making supports families in gaining treatment option knowledge, evaluating benefits, drawbacks and clarifying priorities.
The System Navigation program at Muscular Dystrophy Canada is a person-centered approach. Service specialists (system navigators) provides critical support not only in ensuring clients have access to the right resources but also play a key role in: Providing education and information; Making connections and development of networks; Working in partnership to address barriers and sharing resources; Enhancement of life skills and self-coping strategies; Inclusion and celebrating different abilities; Influencing positive change (individual 1:1 advocacy). To learn more, contact the service specialist in your area.
Watch Webinar