Thanks to you, our committed, generous donors, 2019 was an incredible year. Because of you, Muscular Dystrophy Canada supported clients through 13,458 calls and interactions, funded $1.1 million in research, and supplied 1,192 pieces of vital equipment for clients.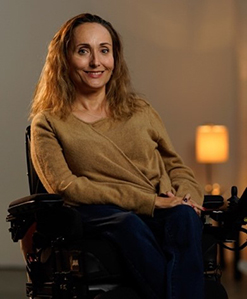 But we still have so much more to do to break down barriers for Canadians impacted by neuromuscular disorders—and we can't do it without your continued support.
Canadians are still facing barriers when it comes to being diagnosed early and properly, accessing treatments and at an affordable price, and knowing how to use our healthcare system to get the help they need.
Just a few weeks ago, I had the pleasure of meeting a Muscular Dystrophy Canada (MDC) client, Stefanie Marinich-Lee, who amazed me with her tenacity and openness to talking about the struggles Canadians living with a neuromuscular disorder are facing every day.
Stefanie was diagnosed with Type 3 spinal muscular atrophy (SMA) when she was 17 months old. As a child, she remembers struggling to walk. How after each fall it was even harder to get back up. Despite the obstacles she faced, she never gave up. Stefanie told me, "My parents always said I could do anything—that my disability did not define me."
So, at 19 years old, Stefanie left home to study at the University of Waterloo and chased her dreams of becoming a lawyer. As her career took off, and her disorder progressed, she started losing abilities. Simple everyday tasks, that most of us take for granted, became more and more difficult for her. Some were impossible. It shattered her to pieces when she had to step away from her dream career. She felt isolated and battled depression.
Continue reading