Eight years ago, I sat in a doctor's office staring down at a brochure from Muscular Dystrophy Canada mindlessly reading the same line over and over again.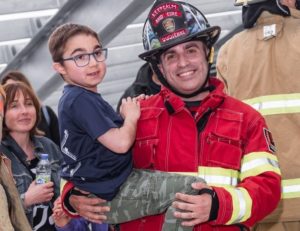 I was in shock. A doctor had just told me my 4-year-old son, Eloi, had Duchenne Muscular Dystrophy. When news like that comes, it's like the world stops and the sky is falling on you.
All I could think about was that my son was going to stop walking and I would live to bury him and there was little I could do to intervene.
I didn't know in that moment I would have supporters like you on my side, to help my family through this.
But then we reached out to Muscular Dystrophy Canada (MDC) and learned about the incredible support they are able to provide thanks to donors. In fact, we were so moved that we decided to take action by helping them raise much-needed funds for equipment, research and support for other famliles impacted.
September is Muscular Dystrophy Awareness Month so I hope that you, too, will take action by making a gift today to help support the more than 50,000 Canadians impacted by neuromuscular disorders.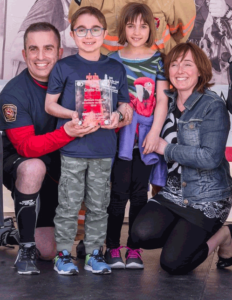 Because donors like you are having an incredible impact on the lives of individuals and families, like mine, who are living with a muscular dystrophy diagnosis.
For example, thanks to donors, we were able to adapt our home so Eloi can safely and freely get around. He has a scooter. He's gone to summer camp. And, MDC was even able to visit his elementary school with their Muscle Facts program to help his classmates and teachers better understand his diagnosis and challenges. None of this would have been possible, without your support.
Sadly our story is not unique. Every year, more families have to figure out what a diagnosis of muscular dystrophy means for their son, daughter, brother, mother. You may even be one of those people, and you remember that moment as vividly as I do.
Mostly, I remember feeling helpless. The fear of the unknown can be so overwhelming. But joining the Muscular Dystrophy Canada family has been one of the most transformative experiences of my life. Not only has my family been gifted with new friendships and an invaluable support network – I've been able to help other families.
Donors, like you and me, can improve the lives of the thousands of Canadians living with a muscular dystrophy. That's why I hope you will mark Muscular Dystrophy Awareness Month with a generous gift.
I've seen first-hand how gifts from donors play a critical role in supporting individuals. And because of my job, managing clinical trials for a pharmaceutical company, I've seen how your gifts are moving promising research forward as well. Research can make the difference between an individual, like my son, walking or spending the rest of their lives in a wheelchair.
Right now, Eloi only needs a wheelchair for long distances. But we know the day may come when he will have to rely on it completely. And, he'll require other supports to maintain his quality of life. This disorder is progressive. It can be slowed, but not stopped. That's why ongoing donor support is critical.
By making a gift today, you will be providing hope to all Canadians, whether they have been living with a disorder or they are just getting a diagnosis. Please give generously.
From my family to yours,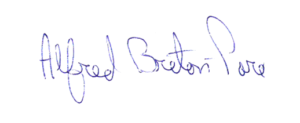 Alfred Breton-Pare, Eloi's Proud Papa
P.S. September is Muscular Dystrophy Awareness Month. Please make a gift to MDC so together we can fund life-changing equipment, and invest in life-saving research.